Meeting looks at progress, more work needed on Veteran homelessness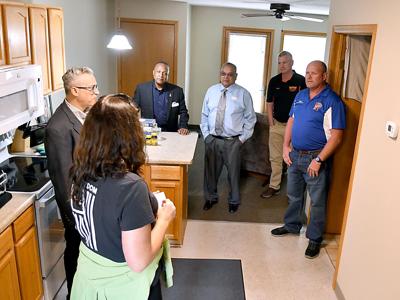 Sue Worlds (front), the Radichel TownHomes housing director for the Minnesota Assistance Council for Veterans, brings veterans organization leaders on a tour of the housing complex Tuesday. Veterans group leaders met in Mankato to discuss progress and ongoing work to address veterans homelessness.
Veterans group leaders met Tuesday in Mankato to discuss both progress and the need for ongoing vigilance in combating veteran homelessness in Minnesota.
The state had 318 veterans on its homeless registry on July 3, according to data from the Minnesota Department of Veterans Affairs. The southeast Minnesota region, which includes Blue Earth County, accounted for 13 on the registry as of early 2023.
The registry enables state agencies and veterans organizations to track vets in homelessness with the goal of rapidly housing them. At Tuesday's meeting of the Minnesota Commanders' Task Force, veterans leaders spoke about how the registry contributed to milestones in Mankato's continuum of care region and seven others elsewhere in the state.
Those eight regions "effectively ended" veteran homelessness in recent years, while the two remaining regions in Hennepin and Ramsey counties could reach the benchmark next year.
As the registry numbers indicate, the distinction doesn't mean Minnesota has no veterans in homelessness. "Effectively ending" homelessness, also known as achieving "functional zero," indicates systems are in place in a given region to quickly respond to a veteran in need of housing when such an incident occurs, said Ellsworth Fields, state commander of the Disabled American Veterans Department of Minnesota, or DAV.
"We don't want to project the idea that 'Hey, job done. Let's move on to the next thing,'" he said. "We just have the processes and support in place to address it."
As Nathaniel Saltz put it, the goal is for veteran homelessness to be "rare, brief and non-recurring." Saltz serves as chief program officer of the Minnesota Assistance Council for Veterans, or MACV.
DAV and MACV were among several organizations involved in the meeting Tuesday at Morson-Ario-Strand VFW Post 950. The commanders' task force, composed of leaders from a number of veterans service organizations in the state, regularly meets to discuss homelessness and other issues impacting veterans.
The group discussed how misconceptions about "ending" homelessness could lead people to think more work, or funding to address the issue, isn't needed. There is much to be proud of in homelessness response, Saltz said, but the effort is ongoing.
"If we're not watching the system and maintaining it and taking care of it and improving it, we're going to backslide," he said.
After the meeting, task force members toured MACV's Paul and Dorothy Radichel Veteran TownHomes in Mankato. Opened in 2006, the program includes 11 supportive housing rental units for veterans.
Veterans living in the townhomes receive help connecting to VA health care benefits, mental and chemical health support, transportation and food support, said MACV's Radichel TownHomes housing director Sue Worlds during the tour.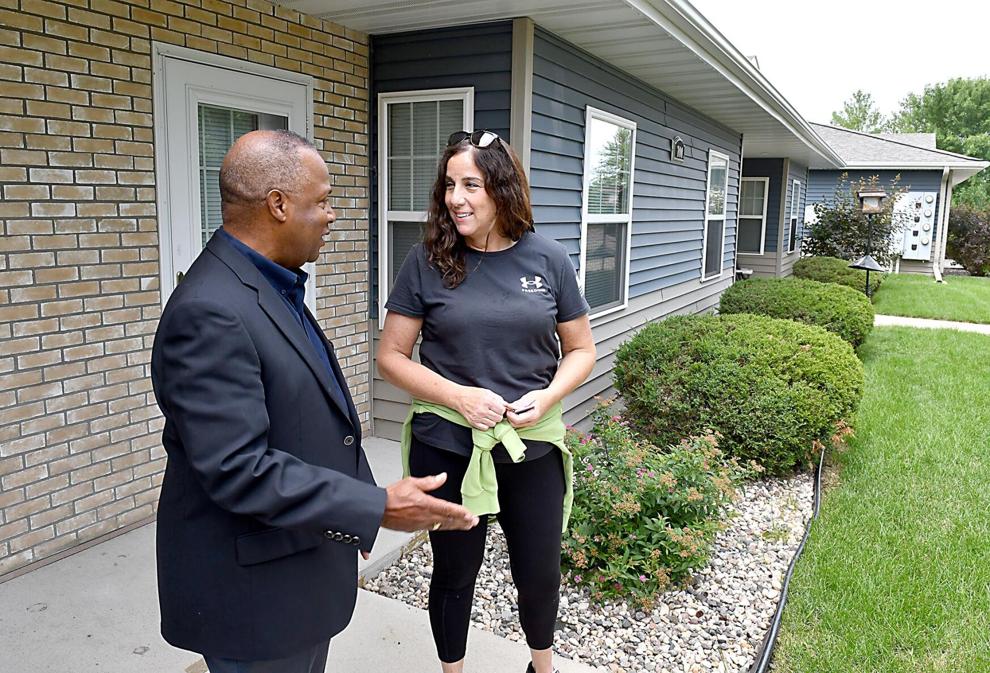 MACV received $7.8 million in funding from the Minnesota Legislature this year for the nonprofit's homelessness programs. Most of the funding is to be used on new permanent supportive housing options for veterans.
7/12/23 Mankato Free Press by Brian Arola