TO:  MDVA Stakeholders
 I'm pleased to share that MDVA has been notified that all three of Minnesota's proposed new State Veterans Homes projects (to be located in Bemidji, Montevideo and Preston) will receive federal funding this year. The U. S. Department of Veterans Affairs (VA) recently released the State Home Construction Grants FY 2021 Conditional Approvals.
We have pursued Federal funding for these important projects since 2018. This investment will allow MDVA to expand our State Veterans Homes into three new communities to serve our elderly Veterans living in all corners on the state.
In 2018, the Minnesota Legislature allocated $33 million toward the cost of the projects. The funding plan is a combination of federal-granted (65 percent), state-bonded and community-provided monies (35 percent).
We appreciate the Minnesota Legislature's past support of our Veterans and these projects. The approval of Federal funds will allow us to now move forward with construction. The planning and design process is nearly complete and now with this exciting news, those final touches can be made.
The three new Minnesota Veterans Homes projects are slated to receive more than $80 million in Federal VA funds. By June 30, MDVA will complete the Federal VA grant application process to obtain the funds.
MDVA leaders have worked closely with local elected officials and Veterans' stakeholders on the planning for the new Veterans Homes. The communities of Bemidji, Montevideo and Preston have been very engaged in the process, donating land for the building sites and raising additional funds to support amenities for the new Homes.
In Bemidji, the proposed facility reflects a North Woods cabin design for both the public spaces as well as the 72 residential units that are split into two sections, avoiding long institutional-feeling hallways. The project cost is estimated at $41.5 million and a total of 105 FTEs will be needed to operate the facility.
The Montevideo facility blends into the local prairie style environment with 72 residential units as well as a large community meeting room. The project cost is estimated at $48 million and a total of 105 FTEs will be needed to operate the facility.
In Preston, the facility will enjoy fantastic views from its hilltop location that includes 54 residential units. The project cost is estimated at $32.2 million and a total of 79 FTEs will be needed to operate the facility.
Construction could begin as early as early fall 2021 with an anticipated 18-month construction schedule.
Thank you for your support. Please let me know if you have any questions or need additional information.
Serving Minnesota Veterans and Their Families  | MinnesotaVeteran.org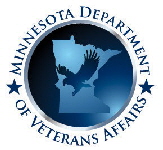 Intersecting identities are a prevailing theme in MACV provider stories. While we focus our services on Veterans, the nature of the U.S. military includes multiple generations and life stages. Case Manager and Army Veteran Amanda Hooper recently engaged with a Veteran in his seventies who recently suffered the loss of a close family member. After the remaining family decided to sell the house in which the two had resided for years, Ron* now had nowhere to live.
After reaching out to his VA case worker, who brought in MACV to secure short-term shelter for Ron, our team placed the Veteran in one of our partner hotels. Our staff collaboratively worked with the VA worker to address Ron's barriers, which include myriad health conditions and no significant income.  The Veteran's adamant self-advocacy to stay in the community where he formerly resided added another layer to the case.
"He wanted to be someplace where his ties to the community were," explains Hooper. When Ron was approved for his housing voucher and able to secure a residence in his community where his "regular life" was, it seemed like this was an open-and-shut case. MACV paid for the security deposit, first month's rent, and connected Ron with resources to furnish his home as well as a move-in kit. The VA also provided home furnishings to help Ron get established on his own.
However, shortly after moving into his new home, Ron discovered a bizarre complication with his Social Security payment: the Social Security Administration (SSA) thought he was dead. Ron had not received his benefit for a few months before this point, but multiple addresses and the flurry of activity to house the Veteran had put this situation on the back burner.
"I'll give him props, he's very much on top of it," notes Hooper. Ron immediately reached out to both his case workers to problem-solve this latest hiccup, which is set to resolve during a meeting at the local SSA office in early March. Given these complications and the slow pace of righting inaccuracies, losing a steady address is especially disastrous for Ron right now. As a result, MACV decided to provide the Veteran's portion of the rent payment until his payment resumes.
Coordinating the medical, social, and financial needs of Veterans ranging from 25 to 90+ is a difficult juggling act every provider at MACV undertakes. Working with SSA in addition to the VA requires the ability to function within different administrative structures, but the decisions made by staff at these separate agencies have equally huge impacts on our clients. Ron is lucky to have such a committed expert on his team as Amanda, and we are confident that Ron can look forward to smooth sailing ahead!
*Veteran name changed to protect confidentiality
Everyone who served this country should have a home in it.
Minnesota counted at least 308 homeless veterans on Veterans Day 2020. That's 100 more than last year, despite enormous efforts by state agencies, nonprofits and volunteers to help the veterans who need so much more than our thanks.
On Veterans Day, like every day, Minnesota was working toward that goal.
On Veterans Day, like every day, we fell short. You can make a difference here!
"They were already walking that tightrope, and the pandemic just pushed so many people off the edge," said James McCloden, an Army veteran who went from jumping out of planes to jumping to the aid of fellow veterans through his work at the Minnesota Assistance Council for Veterans (MACV).
The layers of disasters of 2020 — pandemic stacked on civil unrest stacked on recession — has left some Veterans with nowhere to turn.
"One thing goes wrong, two things go wrong, they can handle," McCloden said. "But six things go wrong? I'm not sure I could handle six things going wrong in my life."
The first thing that went wrong for Deborah Spencer was a broken leg.
The 52-year-old Army veteran had a career and a condo in Chicago's Tinley Park neighborhood a year ago. Then she got hurt, missed work, ran through her savings, moved in with her sister in Rochester, Minn., and found herself in the middle of a pandemic, looking for a place to live with no place to go.
That's when she turned to MACV and asked for help. Today, she's living in Chaska and working at a new job and grateful to all the Minnesotans who helped her get back on her feet.
"Thank you, thank you, thank you," she told Gov. Tim Walz and a small group assembled to celebrate one bit of good news 2020 had to offer: Chaska and other suburban metro cities saw their homeless veteran populations drop to zero this year. You can make a difference here!
"You couldn't have told me this time last year I'd be living in Chaska, Minnesota. I'd never heard of Chaska, Minnesota," Spencer said. "But I believe things happen for a reason."
One more veteran has a home. Three hundred and eight or so to go. Teams from MACV comb the streets, visit encampments and knock on tent flaps, looking for veterans who need help and are willing to accept it. Hotels or other transitional housing are often a first step toward rebuilding their lives.
They found one veteran sleeping in her van with her four children.
MACV staff moved the family out of the cold and into a hotel, where the children tried to do their homework in the lobby.
"We realized we can do better," said Shannon Gregory, MACV metro regional leader, whose team found a local homebuilder who offered the family transitional housing in a new home north of St. Paul.
"They went from living in their car, then living in a new home; now they live in a beautiful four-bedroom home," Gregory said. "That is the impact of the work we are doing."
It's hard work, made harder by a pandemic that complicates every single step in the process of finding a home. You can make a difference here!
The pandemic can make it hard to house hunt or job hunt. The pandemic also makes it hard to get the basics you need to apply for a job or sign a lease.
"Getting I.D. — people don't understand just how difficult that has been," said McCloden, whose teams work with veterans for months, trying to smooth the obstacles between them and a stable, permanent home. "Without identification you can't get a job. You can't sign a lease without identification."
No two veterans are alike; no two veterans face the same obstacles. Some need landlords who can look beyond a criminal record or history of substance abuse or a group home that isn't in pandemic lockdown. Some need a home with space for their children and pets — not every hotel is willing to shelter a veteran who arrives with a dog; even fewer want to take in a cat, McCloden has learned.
It can take months to move a veteran out of hotels and into a home. For those months, MACV staff are there to serve the people who served their country.
On Veterans Day, there were cookies. On Thanksgiving, there will be turkey. On the days between, there will be people there to help. All you have to do is ask for help.
"There's hope," Spencer said. "Don't give up."
You can help today, go to www.givemn.org/MACV and have your donation matched up to $25,000 through Nov. 19th.
If you're a veteran who could use some help, call the Minnesota Department of Veterans Affairs' toll-free helpline: 1-888-LinkVet (888-546-5838.)
Tough. Strong. Self-reliant. These words capture what immediately comes to mind when describing Veterans, military personnel, and the people who support them. We also describe people experiencing domestic violence with these terms, and too often we encounter a person who identifies as both a Veteran and a victim of domestic violence.
Events in the past six months have created a nearly 20% jump in Veteran homelessness rates throughout Minnesota, and a growing number of these Veterans are women. "We see the same barriers over and over," comments MACV case manager Kimberly Dotstry. What sets this period apart is the additional challenge posed by accessing resources and safe shelter while complying with public health and safety protocol.
Shifting demographics in the U.S. military compels MACV to continually assess our approach and its effectiveness for women. Female Veterans often face additional barriers to stability compared to their male counterparts, such as primary responsibility caring for minor children with smaller incomes than men. Mental illness, trauma experienced either inside or outside the line of duty, substance abuse, and volatile behavior contribute to the challenge women face when seeking services from mainstream military service organizations. Attitudes in the armed forces which emphasize self-reliance and a soldier's "toughness," while beneficial and embraced in military culture, can counteract Veterans' willingness to seek help.
Women often become homeless when escaping domestic violence; Veterans are no exception to this reality. About a third of women Veterans experience intimate partner violence at some point in their lives, according to the Department of Veterans Affairs. The Defense Department's most recent report on sexual assault in the military showed a 38-percent increase in assaults against women service members since 2016. During times of crisis like the COVID-19 pandemic, domestic violence tends to increase as couples face unprecedented stress and instability.
According to MACV Case Manager Kimberly Dotstry, "When a woman is fleeing domestic violence, she is automatically homeless in that moment." Women who depend on their partner for financial stability are particularly disadvantaged when fleeing an abusive relationship. Establishing the trust necessary to learn about these painful experiences and their impact on the Veteran often takes months of careful work from skilled service providers.
October is domestic violence awareness month. To learn more about this issue and how the VA can help, please visit their website.
Message to all MACV Clients Currently Receiving Services – Call Us!
At Minnesota Assistance Council for Veterans, we are keenly aware of the struggles that many Veterans are experiencing as we cope with the impacts of the Coronavirus emergency. MACV continues to operate and serve Veterans, and delivering our services through phone and email whenever possible.
While we have assisted you in the past year, if your situation has changed and you are now facing uncertainty or challenges that are putting your housing stability at risk, please don't wait – reach out to us now. Our housing, employment, and legal services teams are ready to support you as needed.
In addition to our direct services, there are a growing number of benefits and resources becoming available for those most impacted in this time. We are assembling a growing list of resources and information about our availability on our website at COVID-19 Link.
Call our staff today:
(833) 222-6228
email mac-v@mac-v.org
For legal support, call VetLaw:
651-200-4750
email vetlaw@mac-v.org
We sincerely hope that you and yours are well, we want to hear from you!
Here is the statewide summary of the availability of County Veteran Service Offices (CVSO), DAV, Minnesota VA, and other Veteran services across the state of Minnesota, with notes on how Veteran and families can receive services and how to contact each office.
Link to Updated CVSO's, VA Services and other Military Members Support
Check out these resources and feel free to share with others:
Check out these resources and feel free to share with others:
Minnesota COVID-19 Updates: www.health.state.mn.us/diseases/coronavirus/index.html
US Dept of Veterans Affairs: www.va.gov/
Veterans Integrated Service Network (VISN 23): www.visn23.va.gov/
Area VA Medical Centers:
• Fargo VA Health Care System: www.fargo.va.gov/
• Minneapolis VA Health Care System: www.minneapolis.va.gov/
• St. Cloud VA Health Care System: www.stcloud.va.gov/
• Sioux Falls VA Health Care System: www.siouxfalls.va.gov/
VBA Regional Offices: • Fargo: www.benefits.va.gov/fargo/
• Sioux Falls: www.benefits.va.gov/siouxfalls/
• St. Paul: www.benefits.va.gov/stpaul
• Managing Stress and the Threat of COVID-19: https://www.health.state.mn.us/communities/ep/behavioral/stress_covid19.pdf
• COVID-19 and Healthcare Responder Stress: https://www.health.state.mn.us/communities/ep/behavioral/responder_covid19.pdf
• Parent/Caregiver Guide to Helping Families Cope With COVID-19: https://www.nctsn.org/sites/default/files/resources/fact-sheet/outbreak_factsheet_1.pdf