Department of Minnesota VFW Commander's Project for 2022-2023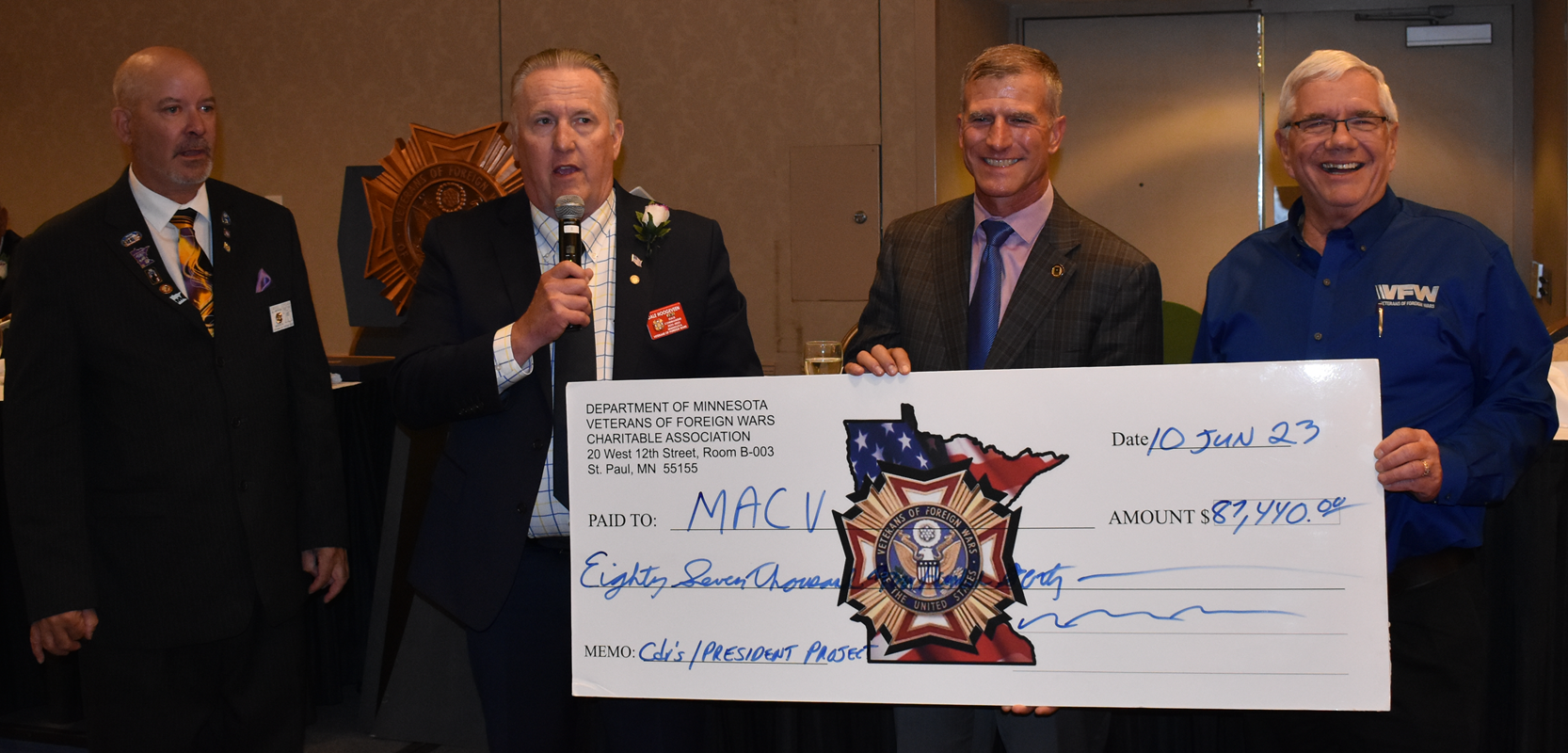 Saturday, June 10th, 2023, at the Crown Plaza in Plymouth, Minnesota, the Department of Veterans of Foreign Wars and Auxiliary was conducting a time-honored tradition called the Parade of Checks. The Commanders Project chair, Dan Jordan, and Auxiliary Presidents Project chair Cheryl Hermanson led the festivities. The Parade of Checks is an opportunity for the VFW Posts across the State of Minnesota to provide a direct donation to the States Commander and Auxiliary Project. This year State Commander Dale Hoogeveen and Auxiliary President Sonia Tatge selected Minnesota Assistance Council for Veterans (MACV), whose mission is "Ending Veteran Homelessness."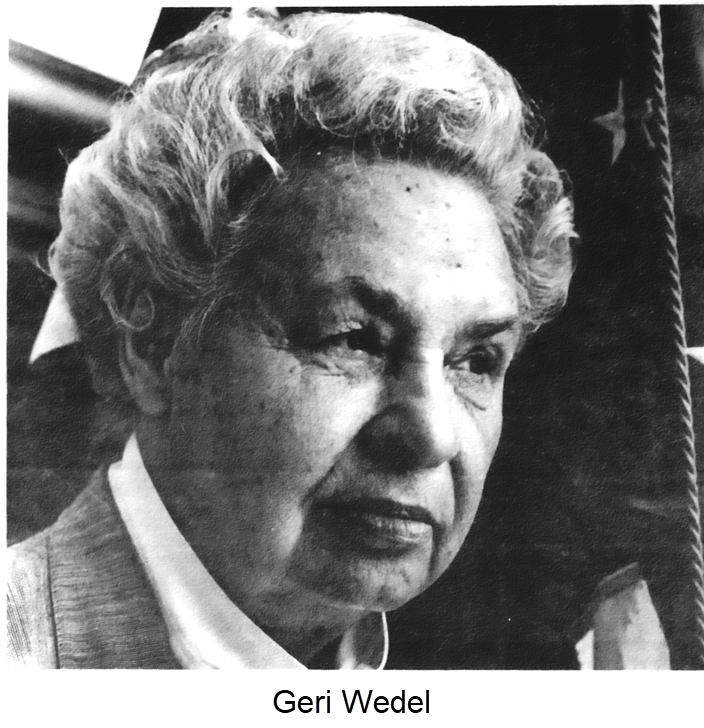 Let's take a brief step back in time to around 1990. The history of MACV starts with Geri Wedel; she was a 1st Lieutenant in the Army Nurse Corps, earning both the Asian Pacific and Philippines Theater Ribbons with a battle star each. She first formed a 501(c)(3) named "Transitional Housing for Homeless Veterans of Ramsey County," located in a single house at 55 Front Street in St. Paul. With assistance from John O'Neill Jr and a generous donation from VFW Post 6845 Saint Paul. In talking with Past Department Commander Dave Adams, he also recalls his home post Keep-Zimmer VFW Post 1782 White Bear Lake donating $500 during that time; I could hear the pride in his voice as he talked about "starting something great for Veterans and how it progressed from there."
Geri was the founding board president, along with several other Veterans as board members, and hired Jimmie L Coulthard as the First President/CEO of this new 501(c)(3). Jimmie was a member of VFW Post 3877 at the time and is now a member of VFW Post 6690 in Mendota, MN, and recalls the challenges of this endeavor. This group was encouraged by Mark Mulvihill from the St. Paul Veteran Center, who served multiple tours in Vietnam with the U.S. Marine Corps. In talking with Jimmie, he is proud of what MACV has become and what it has done. Jimmie has kept tabs on MACV over the years and quipped jokily, "I was a buck Sergeant and am happy that it takes a 2 Star General to do his job now."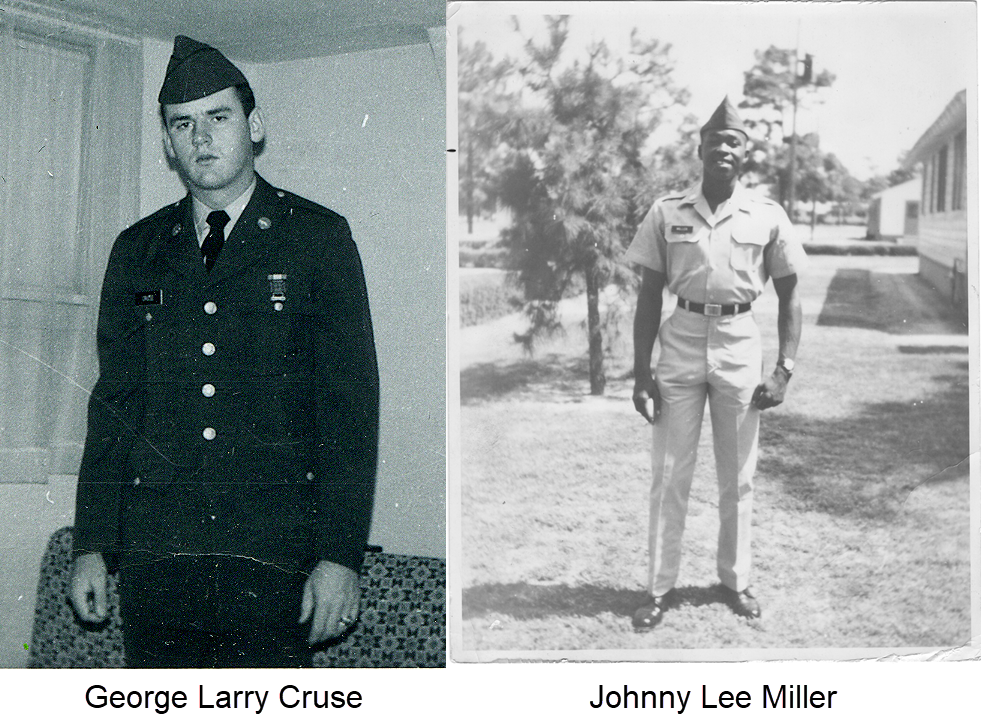 While many details are lost to time, what is now known as the Veterans and Community housing in Minneapolis was visioned initially to be named the "Cruse-Miller Garrison ."As Jimmie related to me, George Cruse was killed in action trying to save the life of Johnny Miller, who was trying to assist another wounded soldier. Jimmie once wrote, "They were common men doing their job, as they knew them." And Garrison meant a permanent stronghold providing protection for its troops. While the name may not have stuck, I will forever see the name when I view the facilities in Minneapolis. For more information about this history, please click on this link to download a copy of this history from Jimmie's website. Cruse-Miller Garrison Story
Returning to Saturday, June 10th, 2023, the Department of Minnesota VFW raised $117,000 in donations for MACV. Neil Loidolt, a Palmer Lake VFW Post 3915 member in Brooklyn Park and current President/CEO of MACV, was in attendance to receive this generous donation on MACV's behalf. When asked about his team, he said, "Our Development team does great work, and Shaun Riffe connected early with Dan Jordan and ensured that we were always providing the best information possible about MACV programs and services. 
Several MACV Teammates are very active in VFW leadership positions (James McCloden and Kevin Beichler), and they help answer questions. The MACV leadership team supports by always meeting VFW requests for speakers, volunteers, or information."
MACV has helped over 10,000 Veterans and assisted with housing for 1,800+ Veterans, but a lot of work still needs to be done. In 2015 Minnesota Department of Veterans Affairs statistics identified 583 homeless veterans. That number is down to 306 in 2021. When asked why Minnesota cannot bring that number down to zero, Neal has this to say.
"The number one cause is the lack of affordable housing. Advocating for rent caps, increasing tenant protections, expanding enforceable tenant screening leniency protections, properly funding voucher programs and public housing with congruent optional supportive services, and reducing the burden of bureaucracy on the individual experiencing homelesness.

The Minnesota Veteran homeless response system is fortunate to have a sufficient level of resources to address gaps and expand on successes within the system. An incredibly rare occurrence in human services. Despite these resources, we lack enough boots on the ground to do the work. The whole world is short-staffed, but with the spotlight on this work, our staffing capacity shortage is even more apparent.

Refer to anyone you know that is passionate about helping Veterans or simply making the world a better place to join this work."
I know from my involvement in the VFW and working with my fellow veterans that we face issues that most others could not imagine, but we are a community that knows how to assist each other. When asked what organizations like the VFW can do to better assist our Veterans, Neal has this great advice, "Be mindful of your members who are struggling and try to help them before homelessness. Benjamin Franklin once noted: "An ounce of prevention is worth a pound of cure." Local VFW posts are uniquely situated to know their members and to also use local funds, upfront, before the point of absolute crisis."