TO:  MDVA Stakeholders
 I'm pleased to share that MDVA has been notified that all three of Minnesota's proposed new State Veterans Homes projects (to be located in Bemidji, Montevideo and Preston) will receive federal funding this year. The U. S. Department of Veterans Affairs (VA) recently released the State Home Construction Grants FY 2021 Conditional Approvals.
We have pursued Federal funding for these important projects since 2018. This investment will allow MDVA to expand our State Veterans Homes into three new communities to serve our elderly Veterans living in all corners on the state.
In 2018, the Minnesota Legislature allocated $33 million toward the cost of the projects. The funding plan is a combination of federal-granted (65 percent), state-bonded and community-provided monies (35 percent).
We appreciate the Minnesota Legislature's past support of our Veterans and these projects. The approval of Federal funds will allow us to now move forward with construction. The planning and design process is nearly complete and now with this exciting news, those final touches can be made.
The three new Minnesota Veterans Homes projects are slated to receive more than $80 million in Federal VA funds. By June 30, MDVA will complete the Federal VA grant application process to obtain the funds.
MDVA leaders have worked closely with local elected officials and Veterans' stakeholders on the planning for the new Veterans Homes. The communities of Bemidji, Montevideo and Preston have been very engaged in the process, donating land for the building sites and raising additional funds to support amenities for the new Homes.
In Bemidji, the proposed facility reflects a North Woods cabin design for both the public spaces as well as the 72 residential units that are split into two sections, avoiding long institutional-feeling hallways. The project cost is estimated at $41.5 million and a total of 105 FTEs will be needed to operate the facility.
The Montevideo facility blends into the local prairie style environment with 72 residential units as well as a large community meeting room. The project cost is estimated at $48 million and a total of 105 FTEs will be needed to operate the facility.
In Preston, the facility will enjoy fantastic views from its hilltop location that includes 54 residential units. The project cost is estimated at $32.2 million and a total of 79 FTEs will be needed to operate the facility.
Construction could begin as early as early fall 2021 with an anticipated 18-month construction schedule.
Thank you for your support. Please let me know if you have any questions or need additional information.
Serving Minnesota Veterans and Their Families  | MinnesotaVeteran.org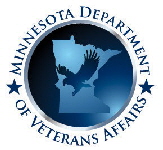 MACV is hosting a series of recurring webinars for all job seekers through our Employment Services program. The webinars came about through feedback solicited by the MACV Employment Services team, who reached out to current and former program participants to see how they were coping with the COVID-19 pandemic.

Feedback focused on a lack of access to two services MACV previously provided during in-office visits: the resume classes formerly held twice a week in the MACV conference room, and an orientation session held in partnership with VA Community Employment Coordinator and Army Veteran Deric Williams focused on navigating and applying to jobs on federal job website USAJobs. Veterans and staff alike also noted the increasing number of companies conducting job interviews via phone or web-based platforms.

Responding to the evolving needs of Veterans looking for work, we hosted the first of our web series in June with "Resume Development," followed up in August with "USAJobs: Learning How to Apply for Government Jobs," and launching the "Telephone and Video Conference Interviewing Skills and Techniques" webinar in September. Staff also introduced a virtual workshop covering how to install Zoom, conduct basic internet searches, and complete online job searches and applications in September.

The team is also collaborating with MACV's newly created Justice Involved Veterans initiative to develop a webinar aimed at addressing justice involvement during a job interview. These webinars are possible because of the hard work and expertise of presenters Bob Anderson (MACV), Deric Williams (Department of Veterans Affairs), and Kari Elias (Cygnus Recruiting Group). Thank you for your commitment to stabilizing Veterans in need!
MACV Employment Brochure – Monthly Webinars 1.14.21 (002)
Sometimes our veterans need more than just a "thank you for your service". That's why we created the Salute to Servicewomen Golf Classic. This event honors all women veterans AND gives more than just a "thank you" to those who find themselves homeless after leaving military service.
In 2019, this event raised enough money to provide monthly operational costs for two transitional homes and helped veterans move into permanent housing. In 2020, Covid-19 added additional challenges including cancelling our event. In 2021, monies raised will continue to support MACV housing for women veterans and families.
Link to Sign Up
Intersecting identities are a prevailing theme in MACV provider stories. While we focus our services on Veterans, the nature of the U.S. military includes multiple generations and life stages. Case Manager and Army Veteran Amanda Hooper recently engaged with a Veteran in his seventies who recently suffered the loss of a close family member. After the remaining family decided to sell the house in which the two had resided for years, Ron* now had nowhere to live.
After reaching out to his VA case worker, who brought in MACV to secure short-term shelter for Ron, our team placed the Veteran in one of our partner hotels. Our staff collaboratively worked with the VA worker to address Ron's barriers, which include myriad health conditions and no significant income.  The Veteran's adamant self-advocacy to stay in the community where he formerly resided added another layer to the case.
"He wanted to be someplace where his ties to the community were," explains Hooper. When Ron was approved for his housing voucher and able to secure a residence in his community where his "regular life" was, it seemed like this was an open-and-shut case. MACV paid for the security deposit, first month's rent, and connected Ron with resources to furnish his home as well as a move-in kit. The VA also provided home furnishings to help Ron get established on his own.
However, shortly after moving into his new home, Ron discovered a bizarre complication with his Social Security payment: the Social Security Administration (SSA) thought he was dead. Ron had not received his benefit for a few months before this point, but multiple addresses and the flurry of activity to house the Veteran had put this situation on the back burner.
"I'll give him props, he's very much on top of it," notes Hooper. Ron immediately reached out to both his case workers to problem-solve this latest hiccup, which is set to resolve during a meeting at the local SSA office in early March. Given these complications and the slow pace of righting inaccuracies, losing a steady address is especially disastrous for Ron right now. As a result, MACV decided to provide the Veteran's portion of the rent payment until his payment resumes.
Coordinating the medical, social, and financial needs of Veterans ranging from 25 to 90+ is a difficult juggling act every provider at MACV undertakes. Working with SSA in addition to the VA requires the ability to function within different administrative structures, but the decisions made by staff at these separate agencies have equally huge impacts on our clients. Ron is lucky to have such a committed expert on his team as Amanda, and we are confident that Ron can look forward to smooth sailing ahead!
*Veteran name changed to protect confidentiality
The Mankato Elks Lodge is proud to partner with MACV's southern region team in pursuit of our shared goal of assisting the local Veteran community. The Mankato Elks Lodge appreciates that MACV is on the front lines and can easily assess needs and eligibility for the Elks programs. We are blessed to have several current and former MACV employees join our Lodge to help further our mutual goals.
This collaborative partnership has taken many forms over the years; the Lodge has supported MACV by providing vouchers for food or fuel, fundraising assistance, strong partnership in local Stand Down events, and otherwise providing Veterans help in their time of need. The Mankato Elks Lodge also launched their "Welcome Home Kits Program" 5 years ago, specifying MACV Veterans as the recipients of their generosity. The kits provide many household items to MACV Veterans moving into housing after an episode of homelessness.
With more than 1.1 million members in more than 2,100 Lodges nationwide, the Elks is one of the largest and most active fraternal organizations in the United States, as well as the largest civilian-run Veteran-focused organization.
"So long as there are Veterans, the Benevolent and Protective Order of Elks will never forget them."
In our first major award of 2021, the Minnesota National Guard awarded MACV with $60,000 to provide direct financial assistance for National Guard Veterans who otherwise do not qualify for federal grant support. The MN National Guard has the back of its members during these tough times, and we are proud to associate ourselves with such a strong branch of the military!
After a ten-year hiatus from giving to MACV, the Forest Lake Lions Club stepped up to renew our relationship through a $1,000 grant supporting general operations at MACV. Fraternal organizations like the Lions are longtime supporters of initiatives like ending Veteran homelessness, and we are grateful to the men and women who commit more than words of support to our cause. Thanks again, Forest Lake Lions Club!
3M rounded out a multitude of donations, both in-kind and financial, by fully matching $5,000 of YOUR end-of-year donations! Between the giving campaigns and value of goods donated to Veterans staying in area hotels through our placement program 3M has awarded more than $12,000 to MACV in the past two months. Thanks again for your continued partnership!
Abbott Labs reached out to us with a generous end-of-year donation in response to an employee's request! Abbott awarded us $10,000 in an unrestricted grant. Thanks to the Abbott team for rounding out an unprecedented year for nongovernment funding with this lovely surprise.
Longtime supporter Michael Ott selected MACV as the beneficiary of his year-end donation made through the St. Paul & Minnesota Foundation. As a board member of the Foundation, Ott has the opportunity to donate endowment funds to the nonprofit of his choice each year. Your generosity only strengthens our relationship with the St. Paul & Minnesota Foundation!